QUOTES FROM ADOPTERS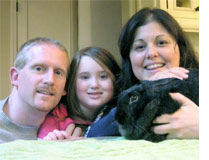 "We so appreciate all your help. I am truly impressed with Long Island Rabbit Rescue. Tallulah loves to play. We give her our toilet paper/paper towel rolls. She tosses them around and she loves to play with a has baby keys. My dogs for the most part ignore her and she doesn't seem bothered by them. When she is in her cage Tallulah and the dogs coexist happily. Everyday it seems that she enjoys being pet more and more. She doesn't like being picked up but once she is in my arms she sits with me for a while and we cuddle. I just can't believe someone would let such a beautiful animal get away! I can't bare to think that she had to be rescued. She is a total blast to watch and such a love to pet. We are truly enjoying her." —The Stewart family
---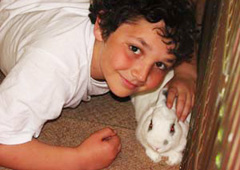 "Stanley is the newest member of our family and he loves his new pal Anthony" —Robert
---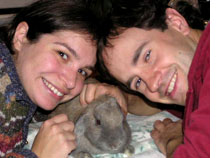 "We just wanted to let you know that Pinky (Belle) is doing really well, and we want to thank you so much for introducing her to us! She has already given us so much joy and laughter, and spending time with her is the highlight of our day. We are so glad that we adopted Pinky from your rescue, rather than buying a rabbit at a store. We feel really good that we were able to give such a sweet bun a home. Also, we learned so much about rabbit care from you guys, and it's wonderful that you do so much to educate prospective adopters." —Corey, Erin and Pinky
---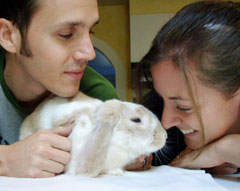 "Oscar is definitely happy in his new home. We had him out and he was doing his binky routine for us non-stop for a little while. He ran right up to Greg and started licking his hand too. I got him to play a little game with me: I put my nose against his and then backed away and a second later he put his nose against mine again. He's really funny. I never imagined a bunny could be so affectionate and playful." –Kim
---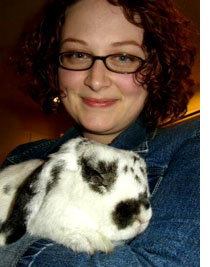 "Marzipan is still just as sweet and cuddly as ever, but boy has she turned out to be a handful of a bunny! It's completely worth it, of course, every time she melts into the floor when we pet her or snuggles into our elbow when we hold her in our laps. And yes, it turns out she is quite agreeable to being handled the way you taught us. She's never put up a fight when we've gone to pick her up by scooping her up and holding her like a football." —Melody
---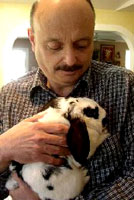 "Simone is doing great. She does so many happy dances every night. One of my friends saw us together and said "Simone is a really great pet for you, you look happier and she found a home that she knows is hers. It is a really great match." —Paul
---
"Perry, now Phoebe, has brought nothing but joy into our home and Popeye's life. He had resisted previous chances for a mate, but fell in love with and was bonded to Phoebe in just two weeks— while my other pair took months to bond. It's such fun watching our little four-pounder cuddle up next to his "generously proportioned" nine-pound-plus wife. He learned to be quicker at salad time, however, to get his share. Thank you so much for your help and encouragement with the bonding, and for Phoebe."—Kathie and Brian

---

"Found a painted sketch of a bunny on the wall when I removed the 30-year-old wallpaper in the guest bedroom. Next day, like magic, there was a real live, gorgeous, ginger-colored rabbit on our front porch. I fed her there for three days, then called the LI Rabbit Rescue Group who caught Ginger and settled her into our home, our hearts and our family. She's our very first rabbit and teaches us something new every day.
Who knew that a bunny could have a love affair with a beach ball? Oh the passion, the purring, the licking and kissing, and yes, even the ultimate dance of the two-backed beast. One week shy of her neutering date with the vet, hormones still keep Ginger on the ball literally AND figuratively. She's smart, opinionated and sweet, sweet, sweet. She tells me when she's mightily displeased with me: "Be done cleaning my pen and cage already!!!! Let's play NOW!!!" And she purrs and calms when I read to her and tell her stories. It's a special joy to watch her run to me at the sound of my voice. She nestles down for petting and patting, massaging and brushing. Runs circles round me when I sit in her pen with her. Thinks strawberries and blackberries are her royal right and I'd best not dilly dally in delivery.
Ginger is teaching me patience, as I must contain my urgent hope that she'll one day bestow one of her delicate pink tongue lick kisses on me. And she's opened up a whole new world of searching for the soul of non-verbal cues and communication. Does she hear the birds outside? Does she need more hay? Why does she pee in one back corner but poop in both back corners? Oh, I see, she wants hay in the no-pee corner and the shredded aspen wood shavings in the pee corner. What a riot! She's training me very cleverly. Well, it's almost 1am... time for berries and goodnights."—Carolyn
---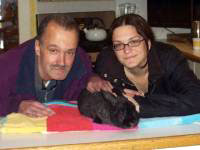 "We are still so full of appreciation for this beautiful bunny you brought into our lives. Ben is having a ball! He romps all over Jessica's room and snuggles with her on her bed when she watches TV. We got him a new basket at Michael's and he is chewing away."—John, Jessica and Paula
---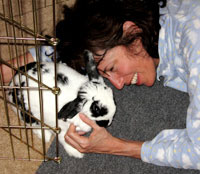 "What can I say about Snoopy Bunny? He has brought so much joy and laughter into our lives. I love our morning ritual when I go to let him out of his cage. He gives me the head shake (mini binky) when I come in and is ready to charge out of the cage. Then he relentlessly licks my hands and then while I scratch behind his ears he will softly grind his teeth in contentment. Some times we let him frolic in our bedroom which is a real treat for him. He is like a race car driver zooming back and forth in the room and binkying up in the air. Snoopy Bunny is such an adorable little critter and he is so endearing. Thank you for bringing him into our lives!" —Jean
---
To see more of our bunnies that have found forever homes, visit HAPPY TAILS. To see more bunnies available to fill your heart and home, visit OUR ADOPTABLES.