OUR ADOPTABLES

All of our Adoptable Rabbits | Bonded Pairs
Rabbits with Special Needs | Sanctuary Rabbits

---
Some of our rabbits are deemed "unadoptable" for various reasons so have been given a permanent home by our caring volunteers. We can always use donations to help with their care if you are unable to adopt a rabbit and still want to help. See how you can help.
WEDNESDAY was found on the streets of Queens in late summer 2013. Despite a heart condition and digestive troubles, Wednesday is an affectionate bunny to all she meets. She gives kisses and snuggles and adores being patted.
To ease her variety of physical challenges, Wednesday's foster mom gives her a special housing set up of synthetic fleece and absorbent bedding. She needs lots of special love and care-- and she gets it!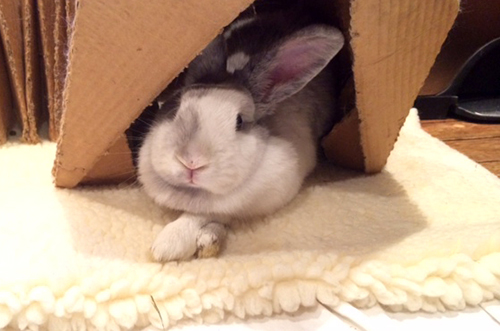 ---
RABBITS WITH SPECIAL NEEDS
Rabbits with health problems or ones who are particularly shy are harder to place but still deserve
the attention and love of a permanent home. They may need extra care and a bigger financial commitment—more than a first time rabbit owner may be prepared for—so need experienced rabbit caretakers.
SANDY is a small special needs boy who was very traumatized upon rescue. He doesn't really trust humans yet, and he needs a special person who will accept him as he is. He would do best in a quiet home with one or two gentle adults who will give him the time he needs to find himself. He may also be a good candidate for bonding with another altered rabbit.
---